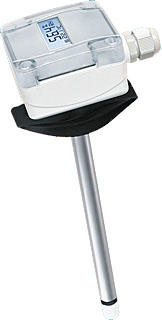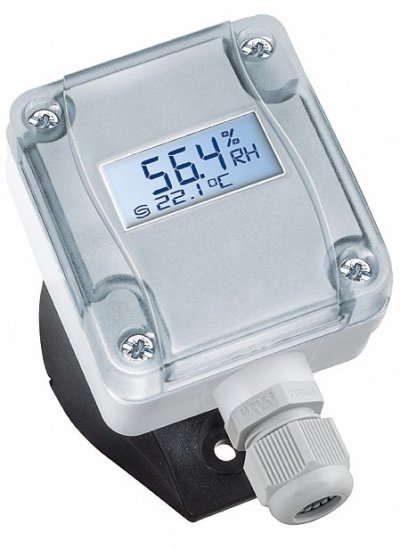 The duct humidity and temperature transmitter HDTT measures the relative humidity and temperature of air.
The duct humidity and temperature transmitter HDTT converts the measurands into standard signals of
0-10 Vdc or 4-20 mA and is optional available with or without display.
Display-versions show actual humidity and actual temperature.
Terminal box enclosure made of impact-resistant plastic with enclosure cover with quick-locking screws.
The duct humidity and temperature transmitter HDTT has four switchable temperature ranges and is applied in non-aggressive dust-free ambiences in refrigeration, air conditioning, ventilation and clean room technology.
Relative humidity (in % r. H.) is the quotient of water vapour partial pressure divided by the saturation vapour pressure at the respective gas temperature.
These measuring transducers are designed for exact detection of humidity.
A digital long-term stable sensor is used as measuring element for humidity measurement.
Fine adjustment by the user is possible.
Mounting flange is included in the scope of delivery for the the duct humidity and temperature transmitter HDTT.
Outputs

Humidity and temperature
HDTT 010 with 2 x 0-10 Vdc outputs
HDTT 420 with 2 x 4-20 mA outputs.

As option passive (direct) temperature output such
PT100, PT1000, Nickel, NTC 10K, NTC 1.8K,NTC 20K and PTC etc.

Humidity measuring range range

0 to 100% r.H. (output corresponding to 0-10 Vdc or 4-20 mA)

Temperature measuring ranges

4 different measuring temperature ranges selectable by jumpers on pcb -35°C to +35°C, -35°C to +75°C, 0 to 50°C or 0 to +80°C.

Accuracy

- Humidity +/- 3% (20 to 80% r.H.), at +20°C, otherwise+/- 5%
- Temperature +/- 0.8 Kelvin at +20°C.

Long-term stability
Small hysteresis
Easy to fix penetration dept with mounting flange
With or without LCD display
Download datasheet
Duct Humidity & Temperature Transmitters HDTT-series.pdf
Feel free to contact us if you're intressted in the product or have any questions.
Or write us an e-mail in the contact form below straight away.