---
Carbon Monoxide (CO) Gas Detector GCO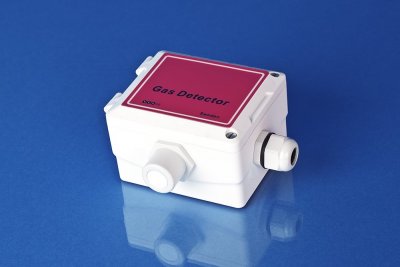 Output 4-20 mA or 2-10 Vdc
Power supply 24 Vdc
Ranges:

GCO 100 have range 0-100 ppm
GCO 300 have range 0-300 ppm

Electrochemical sensor element
Read more about
Carbon Monoxide (CO) Gas Detectors GCO-series
---
Water Warning Detectors WWD
Water Detection Tape WDT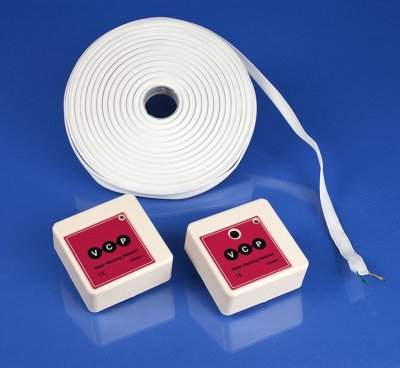 For detection of water and moisture to prevent or minimize water damages.
Read more about
Water Warning Detectors WWD and Water Detection Tape WDT
---
New temperature sensors DORIS-series

DORIS = Duct, Outdoor, Room, Immersion and Strap-on.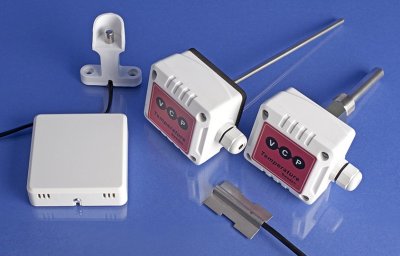 Read more about DORIS temperature sensor series

---
Ventilation Control Products (VCP) supply products for
HVAC Automation / Building Automation.
Our product range contains:

Sensors, Transmitters, Switches and Detectors for
Temperature, Humidity, Pressure, Air Quality (VOC), Carbon Dioxide (CO2), Carbon Monoxide (CO), Liquid, Smoke and Weather.
Including Zone Valves, Valve Actuators, Damper Actuators, Controllers and Thermostats.
VCP products are designed and used as field control products to be integrated with HVAC control systems such as:
BAS = Building Automation System
BMS = Building Management System
BEMS = Building Energy Management System
BAMS = Building Automation Management Systems
DDC = Direct Digital Controls
FMS = Facility Management Systems
FMIS = Facility Management Information Systems
HVAC controls = Heating, Ventilation and Air Conditioning controllers
HVAC Sensors and Transducers
Temperature Monitoring
Room, Duct, Immersion, Strap-on and Outdoor temperature sensors, transmitters/transducers.
Designed and used to sense temperature in in heating, ventilation and air conditioning systems.
Sensors with direct output
Thermistors, Platina, Nickel
NTC 10K, NTC 1.8K, NTC 20K, PT1000, PT100, NI1000, NI1000 TK5000, PTC
sensing elements.
Transmitters with output 0-10 Vdc or 4-20 mA, with or without LCD display.
Humidity Monitoring
Room, Duct and Outdoor RH transmitters/transducers and hygrostats/humidistats.
The humidity and temperature transmitters measures the relative humidity and temperature, designed and used to sense temperature in in heating, ventilation and air conditioning systems.
Output 0-10 Vdc or 4-20 mA, with or without LCD display.
Pressure Monitoring
Pressure switches and pressure transmitters for static, over, differential pressure and vaccum.
Switches, where switching pressure can easily be adjusted on a scaled adjustment knob.
20-200 Pa, 20-300 Pa, 30-400 Pa, 50-500 Pa, 200-1000 Pa, 500-2500 Pa, 1000-4000 Pa.
Transmitters/Transducers, output 0-10 Vdc or 4-20 mA, with or without LCD display.
0-100 Pa, 0-250 Pa, 0-500 Pa, 0-1000 Pa, 0-2500 Pa, 0-5 kPa, 0-10 kPa,
0-25 kPa, 0-50 kPa, 0-100 kPa and 0-250 kPa.
Flow Monitoring
Air Flow Paddle Switch intended to monitor air flow and non-agressive gaseous within a duct and provides a switched output on detection of either a specified air velocity or flow failure.
Air Quality (VOC) Monitoring
VOC = Volatile Organic Compounds.
Also named a Mixed Gas Sensor.
Used for better Indoor Climate and Energy Savings.
Room and Duct transmitters/transducers.
Output 0-10 Vdc or 4-20 mA, with or without LCD display.
Carbon Dioxide (CO2) Monitoring
Used for Field Controls in Green Building Applications.
Room and Duct transmitters/transducers.
Output 0-10 Vdc or 4-20 mA, with or without LCD display.
Carbon Monoxide (CO) Detection
CO detectors/transmitters/transducers to be used to detect toxic gas Carbon Monoxide  
In applications suchvehicle exhaust in parking structures,
(e.g. underground garages), engine repair shops, tunnels, equipment rooms, ventilation systems etc.
Electrochemical sensor element.
Output 4-20 mA or 2-10 Vdc.
Liquid Detection
Liquid Warning Detectors and
Alarm Band for Detection of Moisture and Water
Early detection means Early warning.
Avoid leak damages.
Detect moisture and liquid.
Use VCP´s detectors and alarm band to prevent or minimize water damages.
Smoke Detection
Duct Smoke Detectors for Ventilation Systems.
The primary purpose of duct smoke detection is to prevent injury, panic, and property damage by reducing the spread (recirculation) of smoke.
Detection of smoke is achieved by monitoring a carefully controlled infrared beam within a perforated tube which is inserted into the ductwork.
This method senses smoke directly within the duct, eliminating the problems associated with conventional detectors mounted in sampling boxes.
IR-detection (obscuration).
Probe lengths 300 mm and 600 mm.
Controllers
Zone Controllers with LCD display.
Full-featured CPU based controller designed for small sized cooling and heating air handling systems in residential and commercial facilities.
230 Vac or 24 Vac fan speed control.
single or 3 speed (High-Med-Low).
0-10 Vdc analogue and on/off outputs.
Cooling and heating.
Thermostats (Fan Coil)
Room thermostats designed for line voltage or low voltage control of valves, relays and fan motors
in fan coil units for commercial, industrial and residential installations.
Fan speed switch.
3 speed (HIGH-MED-LOW).
24 V and 220 V versions.
On/off,heat only or cool only, 2-pipe systems.
Heat-off-cool, 2-pipe systems.
Heat-off-cool, 4-pipe systems.
Setpoint knob.
High quality bi-metal sensor for close temperature differential.
Valves and Actuators
Designed and used for control of heat or cool water flow.
Fan coil valves (zone valves) together with fan coil actuator
used as control device.
Fan Coil Valves
2-way, 3-way, 3-way with 4-ports.
DN10 (3/8"), DN15 (1/2") and DN20 (¾").
PN16.
Kvs 0.4, 0.6, 1.0, 1.6, 2.5, 3.5, 4.0 and 5.0.
Stroke 3.7 mm.
Normally Open Valves.
Fan Coil Actuators
Control Signal on/off or Pulse Width Modulating (PWM).
24 Vac/dc and 220 Vac versions.
Normally Open and Normally Closed versions.
Stroke 4.0 mm
Adaptors to motorize other valve brands.
Actuator with control signal 0-10 Vdc also available.
Damper Actuators
To be used for positioning of dampers,
Spring Return Damper Actuators and Non-Spring Return Damper Actuators.
Torque 2, Nm, 4 Nm,  5Nm, 8 Nm, 10 Nm, 15 Nm, 16 Nm, 24 Nm and 32 Nm.
Control signals on/off, 3-point, 2-10 Vdc or 4-20 mA.
Weather
Weather Sensor Shields
Used in outdoor installations to protect relative humidity and temperature sensor from rain and sun radiation ensuring reliable measurement data.
Maximum protection from solar radiation and precipitation.
To be assemblied on wall or on mast.
Wind Speed and Wind Speed/Direction Sensors
The sensors accurately measures the wind speed and direction, providing output signals compatible with most DDC controllers.
Intended for applications where external weather conditions influence the building control strategy, such as for the automatic closing of windows in high wind conditions.
To be assemblied on wall or on mast.
Weather Station Products
Other weather station and meteorology products on request
rain detectors, aerodynamic rain gauges, sunshine detectors, lighting detectors, vane anemometers, barometric measurement etc