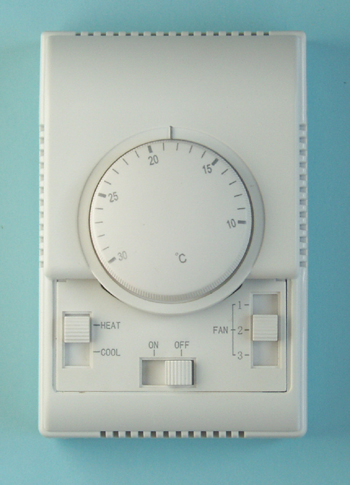 The MDH electro mechanical room thermostats are used both in commercial, industrial and in civil buildings for heating, cooling or air-conditioning control.
When the bottom switch is at the position ON,
the thermostat is running.
Left switch is for a shift of Cooling/Heating.
In winter, it should be at Heat position and
in summer at Cool position.
Right switch is a switch for speed selection.
Fan speed switch

3 speed (HIGH-MED-LOW)

HEAT-COOL system control

MDH 512N for 2-pipe system
MDH 514N for 4-pipe system

ON/OFF switch

pushing "OFF" shuts off power program

Setpoint knob +10 to +30°C
Gas capsule sensing element
Dimensions 131 x 85 x 41 mm
Download datasheet
Electro Mechanical Room Thermostats MDH-series.pdf
Feel free to contact us if you're intressted in the product or have any questions.
Or write us an e-mail in the contact form below straight away.