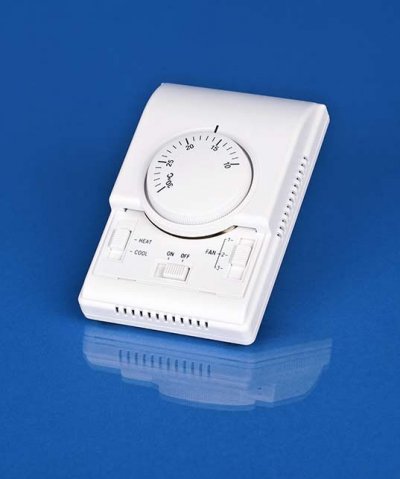 MRT 31A is a mechanical thermostat, thermostat apply to business and household buildings, control the heating, cooling air-condition fan coil and valves, compare the set temperature with logic circuits and its measurement of temperature, when temperature relative difference more than 1 °C, the fans or motorized valve runs automatically, when the ambient temperature reachs the set temperature, fan or motorized valve closes automatically.
The mechanical thermostat MRT 31A have fan speed switch - 3 speed (HIGH-MED-LOW) with HEAT-OFF-COOL switch.
The setpoint knob for the mechanical thermostat MRT 31A is +10 to +30°C.
Power supply 220 Vac
Inflated film sensor
Download datasheet
Room Thermostat, 3-speed (High-Med-Low, Heat-Off-Cool, MRT 31A.pdf
Feel free to contact us if you're intressted in the product or have any questions.
Or write us an e-mail in the contact form below straight away.