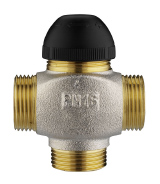 The VZH fan coil valves together with fan coil actuator used as control device.
For constant control of cold and warm water or air as mixing or diverting valve.
The VZH fan coil valves are installed in pipe system according to application (mixing or distribution valve) by means of standard screw connections with flat seals.
Avoid penetration of dirt into the VZH fan coil valves.
The VZH fan coil valves are available in 2 way, 3-way and 3-way with 4 port with sizes DN10, DN15 and DN20 and the kvs values are from 0.4 to 5.0.
PN 16 (16 bar)
Up to +120°C
Max differential pressure 2.5 bar
Kvs values from 0.4 up to 5.0
Stroke lenghts

4.0 mm for 2-way valves
3.7 mm for 3-way valves and 3-way 4-port valves

Normally Open
M30x1.5
Suitable with AZA actuators
Download datasheet
Feel free to contact us if you're intressted in the product or have any questions.
Or write us an e-mail in the contact form below straight away.